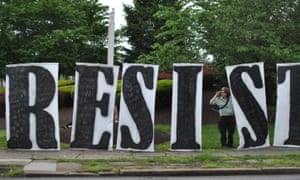 "I grew up playing in the woods, floating coolers of beer down a river, shooting off fireworks, just generally raising hell, all that kind of stuff," said Neely. "Things most people would consider a part of redneck culture. We're trying to acknowledge the ways we've made mistakes and bought into white supremacy and capitalism, but also give ourselves an environment in which it's OK to celebrate redneck culture."
There are several commonalities between the far left and the far right – including a disdain for liberals – but the biggest divide is on the topic of intolerance.
Redneck Revolt began in 2009 as an offshoot of the John Brown Gun Club, a firearms training project originally based in Kansas. Dave Strano, one of Redneck Revolt's founding members, had seized upon what he saw as a contradiction in the Tea Party movement, then in its infancy. Many Tea Party activists were fellow working-class people who had endured significant hardships as a result of the 2008 economic crisis which, in his eyes, had been caused by the very wealthy. And yet, Tea Partiers were now flocking in great numbers to rallies funded by the 1%.
Source: Redneck Revolt: the armed leftwing group that wants to stamp out fascism | US news | The Guardian